Direct primary care (DPC) is a model of health care that delivers comprehensive primary care services focused on disease prevention, health optimization and wellness, through direct access to doctors. Medical care has now evolved into including a direct response option that proves to be more convenient for patients. This is of course due to the high cost, poor accessibility, and excessive complexity of both traditional corporate-style medical care and its insurance options that follow.
Direct primary care is also known as direct payment care, direct practice, direct-care or concierge-level care at an affordable price. The direct primary care model strives to reduce costs by eliminating third-party payers from the equation while increasing access through its direct payment structure – overall offering an alternative payment model for health care delivery systems. This results in monthly membership fees between $35-$150/month per family member depending on location.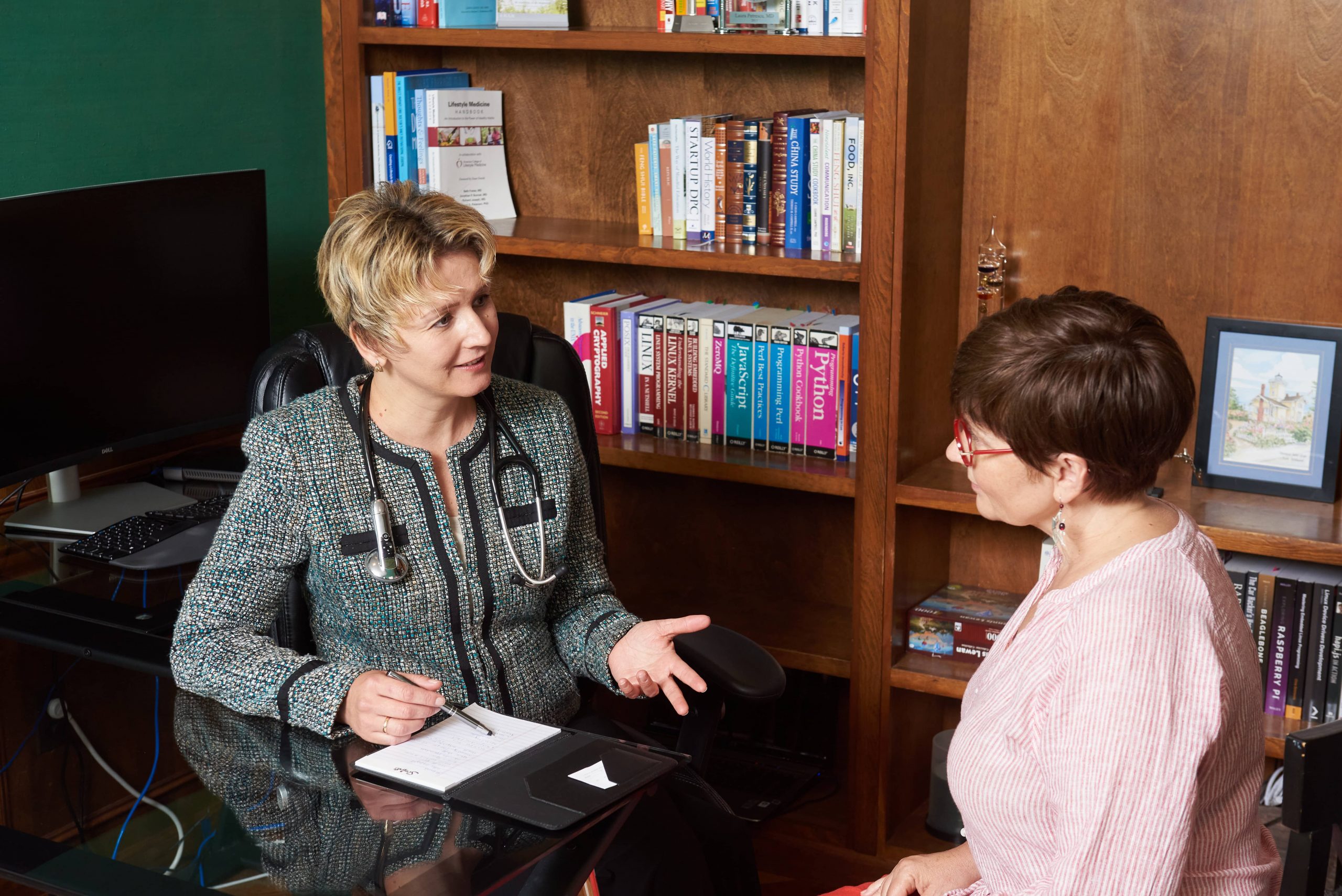 What Direct Primary Care (DPC) Physicians Do
DPC physicians offer comprehensive care of chronic health conditions customized to each member's needs. In some cases, a primary care provider also offers extended visits (or even unlimited visits) to the office to allow for complex disease management which oftentimes avoids costly referrals to specialists. This is super useful when video chat just won't cut it. 80-90% of a typical member's health needs can be addressed by a well-trained DPC physician. This translates into significant savings for members, avoiding unnecessary visits to specialists. 
General services usually vary by physician, but direct primary care can include complete physicals, comprehensive wellness, lifestyle assessment, customized intervention plan, care coordination, and treatment of common acute illnesses.
Typically, DPC physicians offer same-day or next-day appointments which means you receive care immediately whenever you need it. This service saves members a significant amount of money by avoiding unnecessary visits to urgent care or emergency rooms for issues that could otherwise be addressed in a doctor's office. 
DPC physicians also offer personalized care and convenient care for each member to instantly relieve them of administrative burden. Members are typically offered a cell phone line to communicate directly with their physician via secure text messaging or phone calls. Members also typically have a direct email address for non-urgent communication with their doctor. 
DPC physicians and doctors are typically internal medicine specialists, general practitioners or family practice physicians who are direct, personal and accessible to their patients with short wait times. They receive a monthly payment from their members in exchange for direct primary care services so they do not have to negotiate fees with insurance companies. This allows direct primary care physicians to reduce the time it takes to be seen and increase access to direct personal care from a doctor.
The Limitations of A Direct Primary Care Physician
Direct Primary Care memberships typically include only the services and procedures directly rendered by the physician in the practice. Occasionally, it may be medically necessary for members to see another specialist for issues that are outside the DPC physician's scope of practice. DPC membership does not include hospital care or emergency room care. 
Direct Primary Care physicians typically offer basic in-office procedures within their scope of practice. At times, members may need to see a different specialist for procedures or testing outside the DPC physician's scope of practice. 
The Benefits of Direct Primary Care Physicians
In general, direct primary care physicians and doctors offer less expensive wellness and prevention appointments than traditional practices because direct primary care doctors are free to use their time as they see fit.
This direct payment business model eliminates the need for direct primary care physicians to bear the cost of administrative overhead that insurance companies require, which is one reason direct payment models offer cheaper services directly to patients. Direct Primary Care (DPC) physicians generally work alone or in small groups, so there's no need for them to maintain expensive offices with dozens of staff members, including coding and billing departments needed for insurance reimbursement. 
How Direct Primary Care Works
Direct primary care can be paid for in several different ways. Monthly fee-for-service plans involve paying a monthly upfront fee in exchange for unlimited access to your direct primary care physician via text/phone or email and same-day appointments.
Most direct primary care physicians are independent practitioners who are not tethered to hospitals or insurance companies, which gives them the flexibility to give patients direct access to their office. This direct access makes it easier for direct primary care physicians to serve as patient-centered medical homes by providing long visits with doctors, extended hours, telemedicine/telehealth services outside of the physician's office, coordination with specialists and hospital systems for inpatient needs.
Because direct primary care models do not rely on third-party payers, direct primary care service prices are transparent. As a result, direct primary care services have a direct correlation to overall cost savings.
According to a Direct Primary Care Coalition survey of its members, direct primary care physicians save an average of $2,300 per family each year compared with conventional insurance premiums.
This direct relationship between doctors and patients allows direct primary care physicians to focus on improving the quality of care. Because direct primary care physicians are independent of the constraints of third-party payers, they can meet compliance requirements as long as those rules make sense for their practice. In addition, direct primary care models reduce overhead costs associated with providing medical benefits packages, freeing up resources for other purposes such as technology upgrades and concentrating more time on patient needs.
"As direct primary care practices continue to evolve and grow across the country, this model provides better access and higher quality care at a lower cost," said Peter Kaczmarczyk, direct primary care physician and president of the direct primary care practice Five Weddings and a Funeral PC in Tipp City, OH. "It's also important to note that direct primary care physicians espouse the same professional values of patient-centered medical homes."
How To Find A Direct Primary Care (DPC) Physician
Enrollment with direct primary care physicians is typically available to consumers directly through the physician's office or their website. There may be an option to purchase or enroll in a direct primary care plan using a monthly fee or sometimes have the option to purchase a yearly membership for a discounted price. 
For more information, you may find a DPC practice near you by visiting: 
https://mapper.dpcfrontier.com
Physicians from Athena Direct Primary Care and Lifestyle Medicine – Pittsford, NY
Athena Direct Primary Care & Lifestyle Medicine in Pittsford, NY is the first and only DPC practice in the Rochester, NY metropolitan area. This is an independent private practice owned and operated by Dr. Laura Petrescu MD, CPE, DipABLM. 
Dr. Petrescu is a physician with over 20 years of clinical experience in both outpatient and inpatient medicine. She is passionate about providing excellent patient care with a focus on evidence-based medicine and outstanding patient experience. She strongly believes in creating a partnership with the patient in order to achieve the best health outcomes.
Athena DPC offers a wide range of services including but not limited to: routine physical exams, school and sports physicals, treatment for minor injuries, and full-spectrum acute illness management with direct access to your doctor. Dr. Petrescu could prescribe your medications as deemed medically necessary directly to your preferred pharmacy. Dr. Petrescu will also order blood tests, X-rays and additional imaging if needed. You will be able to use your insurance coverage for these tests as per your plan terms and conditions. 
In addition to comprehensive primary care services, Dr. Petrescu offers evidence-based lifestyle medicine treatment and interventions to promote health, prevent and reverse chronic illness, and restore wellness. 
But direct primary care isn't about providing only highly specialized services – it's about providing comprehensive primary medical services with direct access to the physician who cares for you most.
Frequently Asked Questions
What is direct primary care?
Answer: direct primary care (DPC) is a medical practice that provides comprehensive, typically preventive direct access to physicians for common medical issues at a low monthly fee.
Can direct primary care physicians prescribe medications?
Answer: Direct primary care doctors are able to prescribe prescription medications for most conditions, while direct primary care doctors are able to prescribe prescription medications for most conditions, direct primary care doctors are not typically in-network providers with insurance companies. 
What is the difference between direct primary care and concierge medicine?
Answer: Direct primary care and concierge medicine are very similar. Both models offer direct physician access for a monthly fee, both allow patients to have direct access to their physicians over the phone and online through messaging tools, both typically provide same-day appointments when needed, and direct primary care practices typically do not bill insurance companies.
 Typically the membership fee for concierge practice is much higher than direct primary care; also because concierge doctors also bill insurance, the patients pay additional co-pays and deductibles along with their membership fee. Direct primary care is concierge-level healthcare at an affordable flat monthly fee. 
Is direct primary care covered by insurance?
Answer: direct primary care is typically not covered by insurance. Direct primary care physicians are direct-pay providers:  direct primary care patients pay for unlimited services through a flat monthly membership fee. By eliminating the administrative burdens of insurance billing, direct primary care physicians have more time to spend delivering high-quality care to each member. , 
What does direct primary care cost?
Answer: direct primary care is typically more affordable than traditional health insurance. direct primary care costs vary by practice and region, but direct primary care fees can be as low as $300 – $500 per year for adults and $150-$300 per year for children.